At a recent writers' conference, I got cornered by a Famous Novelist (let's call him FN1). We were waiting together for an elevator when he turned to me and said, "I read your latest novel and really enjoyed it."
I was dumbfounded. We had been on a panel together a couple of years ago, so I knew he knew who I was, but the idea that someone I had read and admired for years had actually read and enjoyed my own work was a lot to take in.
Before I could manage to murmur a humble "thank you," FN1 went on, his eyes alight with curiosity. "So," he said, "I figured that the writer in the book is [insert Famous Novelist 2's name here], but who's the actor?"
I felt my eyes widening, my stomach clenching. "Um, no," I stammered, "it's not FN2. It's a composite. They're all composites."
He scoffed with a jovially haughty wave of the hand and got into the elevator. Clearly he wanted dirt, and I was no longer any fun.
The title character of my novel, Channeling Morgan—the actor FN1 referred to—is a closeted movie star. Early on in the book, he hires the main character, Derick, to ghostwrite his autobiography. But Derick's real ambition is to be a novelist—and his role model, Graham Whitcomb, is the famous writer in question. That is, the famous writer in the book, not to be confused with FN2.
I had indeed met FN2 (whether FN1 knew that, I have no idea). So there are pieces of Graham Whitcomb that were informed by him—the charm that mesmerizes his students, something in the way he holds himself. But the character also contains pieces of other famous writers I've met, as well as not so famous writers, and people who aren't writers at all. And sprinkled in among his qualities are things I made up out of whole cloth.
The truth, of course, is that all my characters are composites. Even the ones who seem to spring forth from my imagination like Athena from Zeus's forehead: when I look more closely, I can always see a germ of someone real, even (and most disturbingly) myself. I hadn't written a roman à clef. Though Channeling Morgan is a satire, I had no agenda to spear any particular fish.
So it really threw me that FN1—who almost certainly knows FN2 personally—had seen him in the character. What piece of Graham, I thought, had he been reacting to?
Graham Whitcomb's signature trait is that he's a bit of a sell-out, giving up his authentic voice in order to achieve fame and fortune. That's not at all how I see FN2 or any of the other real people who may have influenced the character. That's my addition to the story, my way of turning Graham into a cautionary tale for Derick (a tale he spends the entire novel ignoring, of course—hence, plot).
I don't know any movie stars personally, so Clive Morgan has no such origins in real life. Rumors about closeted movie stars go all the way back to Charles Laughton, though, so there was plenty of secondhand material to choose from to flesh him out.
When I met my husband, he enthusiastically and quickly read my first novel, Chemistry (ah, the early days, when you'll do anything to impress). When he started to ask questions about it, I confessed that it was autobiographical, based on a previous relationship. That got him even more interested, and he read it a second time—not out of delight with the story, but in an attempt to understand me better.
I tried to convince him that it wouldn't matter. In fact, my contention was that reading the book as fiction would give him a deeper insight into me. After all, even a novel I call autobiographical contains tons of invented scenes, characters, and settings, so to the outsider's eye, there's no telling what was transformed on the way to the page. The advantage of fiction is something else entirely: even when the author him- or herself doesn't realize it, fiction has a tricky way of highlighting the internal stuff—the emotional and spiritual underpinnings that reveal truths far more profound than who did what when.
As Kellyanne Conway might say (if she were literate), novels offer alternative facts. To be more precise, real life is full of facts—what color a person's hair is, what they do for a living—while literature offers truth: what it all means, the values and psychological influences that underlie the chaos that constantly surrounds us.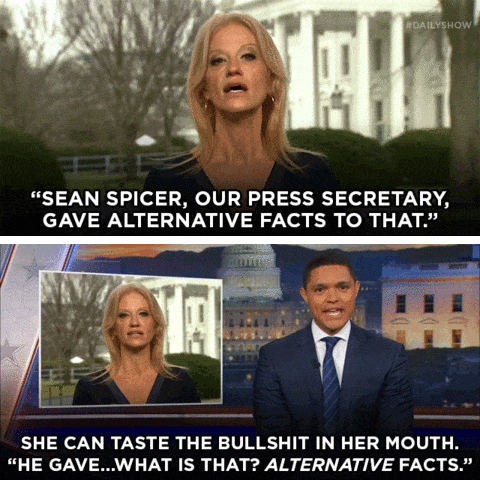 James Frey, author of A Million Little Pieces, was infamously berated by Oprah Winfrey when she learned—after recommending his memoir to the world—that it was actually mostly fiction. Readers felt misled by the book, as if its impact were somehow lessened by the knowledge that it wasn't simply a litany of facts, that each scene and each bit of dialogue and each described smell wasn't a faithful representation of the actual events that had occurred in Frey's life.
I once heard a rumor that Frey had originally intended the book to be a novel, but was advised that novels don't sell. (Wherever would he get that idea?) Memoir was the hot genre (when will its 15 minutes be up?, I keep asking myself), so he presented the book as a record of his own experience rather than fiction inspired by his own experience. Best-sellerdom and scandal ensued. (This version of the story may be an urban legend, but it adds a whole level of meaning. See what I mean about fiction vs. "reality"?)
There's something prurient about humans. Everyone wants to know the "real story"—the dish, the dirt. The ubiquity of social media, of course, has only made a bad thing worse. Now 7 billion people seem to think their stories are all fascinating (even if 80% of what you read on Facebook is still a lie). And the other 6,999,999,999 scroll through their phones and read the lies as if they were the word of God.
Truth, they say, is stranger than fiction. But that's only because people are less willing to suspend their disbelief for something that's labeled fiction. A novelist has to make everything sound probable, lest readers scoff and call it "unrealistic" (which has oddly become the worst of literary insults), even though real life is full of coincidence and paradox and absurdity.
On the other hand, if you take nonsense and lies and label them reality, you can get away with anything. Look no further than 1600 Pennsylvania Avenue.
So there's the reality before your eyes and the reality reimagined by a novelist and printed between the covers of a book. To my mind, a novel is more honest because it admits to being a personalized, incomplete reflection of the world. Anyone who tells you "this really happened, exactly this way, because I saw it with my own eyes" is a liar or a fool.
For me, the deepest truths are most potent when they're furthest from actual events. As one of the characters in Channeling Morgan puts it, "Sometimes, to be yourself, you have to be someone else first."