When Glenn Close lost the Oscar for the seventh time, I flashed back to her most-quoted line, from Fatal Attraction, my favorite of her films: "I'm not going to be ignored, Dan." But ignored she was. Again.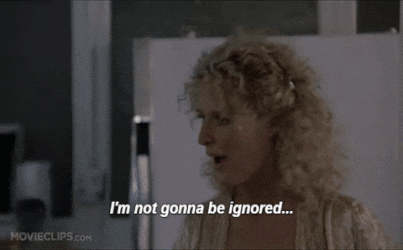 I'd waited all night for her acceptance speech, to see her holding a gold statuette to match the gorgeous gold gown she was wearing (42 pounds, she'd told an interviewer on the red carpet). Hell, I'd waited 30 years to see her hold one of those things.
Truth be told, her performances are always great, but each time she's been unlucky enough that there was another performance in the same category that was, arguably, just a little bit better. So, as much as I've always wanted her to have an Oscar, I can't say anyone ever stole it from her. Not even this time. The Wife is probably her greatest role, and she played it with brilliant ferocity. But Olivia Colman. Yeah, I get it.
I've been obsessed with the Oscars since childhood, when I would watch the telecast with my mother and make a party of it, complete with every snack in the kitchen. By the time I was 20, I'd started making up my own ballots—creating my own nominations in the top categories, making up for the Academy's oversights. On Best Picture alone, over the years I've disagreed with the Academy at least half the time.
So I'm used to being disappointed by the Academy's choices. Art Carney over Al Pacino? Crash over Brokeback Mountain? (I could go on.)
I like to keep a running list of the Most Overlooked Actors—the great ones who never won an Oscar. People like Peter O'Toole and Richard Burton. But for the ones who are still alive, there's always the hope that they'll finally win. Glenn Close is at the top of that list for me.
So this time, I felt particularly invested, and then particularly disappointed. At least it's not as bad as when Chariots of Fire beat Reds for Best Picture. That one sent me into a week-long grouchfest.
But watching the moment unfold—along with my feelings—I suddenly felt the absurdity of competition. When I saw The Favourite, I was blown away by Colman's performance. Just as blown away as I was by Close in The Wife. How can I honestly say which one was "better"? What on earth does "better" mean in such a subjective thing as art?
And the thought occurred to me: Well, all things being equal (and assuming these performances are of equal quality), why not err on the side of history and give the award to Glenn? And the next thought was: Then what's the point of this little competitive farce in the first place?
I have never been a fan of competition. I enjoy playing games, as long as no one's keeping score. And the ubiquitous fascination with sports has always completely escaped me: If the Patriots play on a Tuesday, they win. If they were to play the same game on a Wednesday, and the wind was at a different speed or the sky was cloudier, they might lose. Even in sports, winning doesn't mean you're better; it means your talent and hard work put you in the running, and the rest has as much to do with the alignment of the stars as anything under your own control.
It's only on Oscar night that I seem to care. The Gay Super Bowl, as it's called. But in the end, it's not really about who wins and loses. It's about the spectacle and the emotional impact: Louise Fletcher signing her acceptance speech so her deaf parents can know what she's saying. Nicole Kidman slaying in couture. Some random dude streaking behind David Niven. It's a party.
And that's enough for me.